Open Air Bicycles: Key Features for Outdoor Cycling Experience
Are you getting anxious to visit the local open air bicycles shops in your area?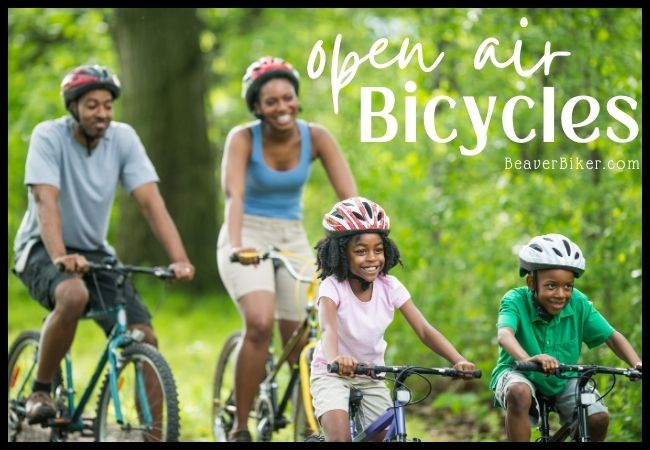 Right now, at the time of writing this post, it is supposed to be spring already. But in the middle of April we got snowed up here in the Midwest. Just yesterday the high was 47 °F.
But everyone is getting excited to go out and ride their bikes.
Open air bicycles are getting popular now. Nowadays people want to be fit and want to be outdoors to enjoy nature.
Thankfully there are outdoor bikes that can take us to enjoy outdoors and be fit at the same time. And also we can use outdoor bikes for our commute daily to work. My fiance used to do that for 17 years riding his bike to work.
Before buying a bike we need to know how the bike works. We need to understand how its parts work so that we will know how to use it.
There are tons of bikes in the market with different designs. On top of that they are built for different styles and for specific purpose.
Open Air Bicycles Features
So it's very important to know the key features of the the bike that you are planning to buy.
Frame Material
One of the features that you need to know is the frame material. It's good to know that it's made of durable material and it is of a high quality. You don't want to buy that's less durable then you have to repair all the time. You don't want either to have a breakdown on the road and be stressful instead of enjoying your ride.
Wheel Size
You need to know the wheel size of the bike that it would match to your height. It's frightening to ride a bike that has a higher size of wheels that would not match to your height.
If you have a taller height, and your lower extremities are long, your knees will hit the handle bars of the bike as you ride. This is hazardous. There should be nothing on the way that would bump your knees as you pedal.
Type of Terrain
You need to know where to ride your bike. Will you be doing it on the mountain? Well, there is a specific bike for that. If you or your kids want a bike to do some stunts, there's a bike for that too— the BMX is good for doing tricks and stunts. You don't want a racing bike to go for a gravel ride.
When we select a bike we should always prioritize our safety and comfort.
My Faves
Do you want to know my favorite open air bicycles?
Here they are:
Tandem – I feel so safe with this, and very comfortable.
BMX – Well, I am short in height. The wheels size are perfect for me. I didn't do it for stunts though.
Recumbent Bikes – These bikes come in 2 – 3 wheels. I have no problem to balance myself.
Riding on a bike that you feel comfortable and safety, it's truly an enjoyment. Well, except when we are on a road with high traffic it's not enjoyment at all! That's for sure.
With proper research and consulting with highly experienced cyclist you can make a well informed decision in buying a bike that will ensure your safety and a thrilling experience in your biking.
If we invest an open air bike that is suitable for our needs, we are not only benefited in getting fit but also it's eco-friendly to our society.
Types of Open Air Bicycles
There are different types of open air bicycles. They are vast of them in the market. Each type has its own purpose.
When you know what's your purpose in getting a bike after reading this list of types of outdoor bikes, then you can identify what type of bike you are going to purchase.
In this list you will discover different types of outdoor bikes. The list serves to any cycling needs you may have. It's a great guide for you especially if you are in a beginner stage.
Here's the list with types of open air bicycles:
BMX
BMX – These bikes are great for kids or for any who have a short height because this type of bike has smaller frames and wheel sizes. Because of their smaller frame and wheel features they are great for jumping and performing tricks.
They are especially designed to be durable so that you can take an off-road riding on it. This means you can ride them on non-paved road, gravel, muddy trails or on a rugged terrain.
BMX bikes are tough on these kind of road conditions.
These are great bikes for the beginners on cycling.
It can be great also for seniors who want to have leisure ride around the block. My 70-year old friend still rides on her BMX in the neighborhood. Yes, you can ride it also on a paved road.
Cruiser Bikes
Have you seen people riding on their bikes on the beach? They are the cruiser bikes. Cruiser bikes are also known as beach bikes. The name of the bike really implies what they are for. They are made with some simple parts and allow you to cruise with ease.
Cruiser bikes have simple drivetrain to help you move. Drivetrain is a function or system of your bike that helps your bike move.
When you ride on a cruiser bike you have an upright position as you sit on the padded seats. Your position is not like those racers with their back and head lowered.
Cruiser bikes are built for comfort. So they have wide cushioned seats, and they usually have wide tires. You really have leisurely ride experience with cruiser bikes.
Electric Bikes
Electric bikes are also known as e-bikes. They are so common nowadays especially the gas price is on the rise.
My boyfriend bikes like a real man. Unfortunately, when my boyfriend sees someone who is riding on an electric bikes, he usually jokes "Hey, that's cheating."
Electric bikes come with a battery and motor. This allows the rider, the battery and motor work together. You might think that you don't need to pedal because it's operated by battery and motor.
Some ebike types, the riders don't need to pedal. But there are some types of ebikes that need you to pedal so that the motor and battery will work.
Ebikes that allow you to pedal will extend the life of the motor and battery. And since you are exercising as you pedal, it will keep you fit and may extend your life too.
With the help of electric/battery or motor, the ebike riders have ease on tackling the challenging terrains.
Fixed Gear Bikes
Fixed gear bikes are also known as "fixies."  These bikes are built with single-speed. These bikes are great for beginners to learn to bike. You have only one speed to master to  learn.
The riders on these bikes have to keep on pedaling so that their bike will keep on moving. This bike doesn't have a freewheel mechanism. This means that you need to keep on pedaling.
A freewheel bike allows you to stop or pedaling but your wheels are still rolling. You can also pedal backwards but your bikes will still be moving forward.
Folding Bikes
Am I hearing you ask: "Is there such a thing, a folding bike?" Yes, you got that right.
The very first time I saw a folding bike while we were down in South Carolina at the boardwalk last fall. I was so impressed to see how the guy folded his bike.  He removed the lock then he folds it.
After the bike was folded it looked like a collapsed wheel chair. Then the guy put it in his car with ease. Wow, what a space-saver!
The bike is compact but you can easily fold and unfolds it.
If you need a bike but afraid of the space in your house or you live in an apartment or dorm, folding bike is a good one to go.
But unfortunately, I am still not convince of getting one. I am afraid it might fold while I am riding 🙂
But anyways, if you are going to buy one, don't ever buy a used one.
Road Bikes
The road bikes are designed to ride on paved roads. They are designed for speed. Road bikes are perfect to ride on if you are planning for a long-distance ride because they are made with light frames. The tires are narrow and great for speed.
Road bikes have drop handlebars which will bring your head lower. If you ride fast (faster than a normal speed) drop handlebars will help you ride speedily because of aerodynamic riding position. When you are in an aerodynamic position the air is not resisting and dragging you therefore you can ride faster. These bikes are excellent for racing.
I don't prefer drop bars because they make my back hurts.
Mountain Bikes
Mountain bikes are designed specially for off-road trails and rugged terrain. So they are built with sturdy frames, wide tires and suspension systems. They are also built with powerful brakes so that you can control your speed on a rough terrain.
The suspension system of a bike insulates you from the impact of riding on a rough surfaces. It's like a cushion. This allows you to experience some comfort even if you are on a rough surface.
Hybrid Bikes
Every time I heard a word "hybrid," it tells me that the components are combined. So hybrid bikes are a combination of between a road and mountain bike features.
It allows the riders to sit on a comfortable seating upright position.  Your head is lifted up and with your back straight up. The handlebars are flat, wide and straight too. You can easily place your hands on both ends of the handlebars. The rider has a comfortable sitting position whether they are riding for daily commute or recreational rides.
Tandem Bikes
Yes, tandem bikes! This type of bikes allows 2 riders. One is sitting on the front and the other is sitting behind. It 's a great way for couples, friends and family members to enjoy cycling together and doing the pedaling together.
It's really fun to ride with someone. On summer, we rode on a tandem a lot. I rarely see people on a tandem.
Yes, my boyfriend has to do most of the pedaling!!! Ha, ha!!! But when we are ascending he tells me, "I need all your muscles!"
When we are riding downhill, he would say "coasting" – which means I don't need to pedal.
When you are riding downhill fast, you should not move your sitting position. You could get crashed. One time I moved, it startled my boyfriend.
I do hate riding on a tandem on a busy road. I don't feel safe.
Recumbent Bikes
The recumbent bikes have a reclined seating position. As you ride your back is resting on the back of the seat. Your back will not experience any strain. Riding on this bike you can really enjoy the scenery around.
They usually come in 2 or 3 wheels. I love bikes with 3 wheels.
It's been a long time since the last time I rode a bike. That's when I was a teen-ager. I am now an ancient lady.
The first time when I went back to biking it was only 2 years ago when we were on a vacation. I did crash. So the next plan was to rent a 3-wheel bike. Boy, I really enjoyed my ride. I love the stability of a 3-wheel bike. It's like playing outdoors.
Variety of Open Air Bicycle Users:
There are varied  users of outdoor bikes.
Men
Men prefer using road bikes, mountain bikes or e-bikes. Men's bikes are specially designed for the male cyclists. Whether men look for high-performance racing or sporty bike, there's a bicycle fit to their needs.
Women
Ladies have also their unique needs for bikes.
There is also a wide selection of bikes for women. They are specially designed for them. Women love comfort as they ride their bikes. So there are bikes built with women's-specific saddles.
There are also bikes with step-through frames for efficient riding experience. Step-through bikes are great for senior women.
There are bikes also for women who love competitive racing.
For Unisex Adults
The unisex adult bikes are designed for both men and women. If a husband and wife both like biking but you have limited storage then the unisex bikes are essential for them.
These bikes offer comfort, durability and reliability for any riding styles you want.
For Boys
Bikes for boys are specially built for the young adventurers. These young ones are cycling enthusiasts for the future.
You can find a selection of high-quality, safe and sturdy bicycles for boys.
You will find these bikes for boys are appealing. The boys will enjoy riding their bikes with excitement. Boys would love BMX bikes.
Girls
Girls love to bike too. Girls love purple and pink bikes. There are fantastic bikes specially built and design for them. The girls love the bikes which are built for their styles. Girls love their bikes with decorations. They love biking outdoors with their friends.
For Unisex Kids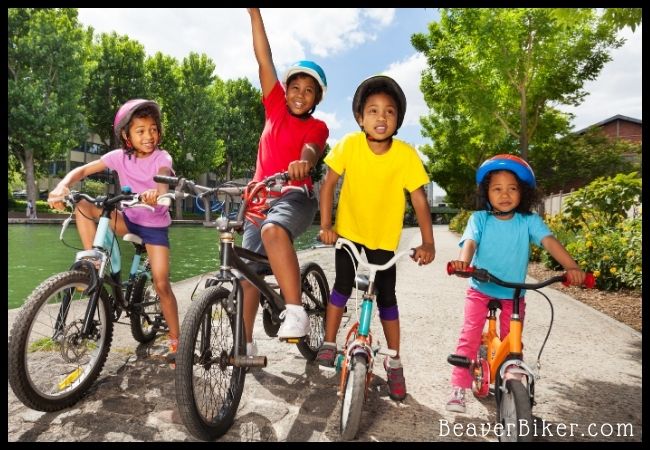 There are bikes for boys and there are bikes for girls. There are also bikes built for unisex kids. These bikes are not gender-specific. So either boy or a girl can ride on them.
The unisex bikes are built for all children of all ages and for different skill levels. These bikes are great for introducing the kids to the world of cycling with a joyful experience.
Styles of Open Air Bicycles
We just talked about different types of bikes, and now we are going to explore the different styles of open air bicycles. The most common types are: Classic, Country, European, Retro, and Urban.
Classic
There are classic cars and there are also classic open air bicycles. This bike style has simplicity and elegance.
These bicycles have timeless designs. They have vintage lines and features. These bikes have sweptback handlebars and upright riding position. I call these special type of bars "antique bikes."
Country
Would you like to venture in the country road? As the name implies, this style of the open air bicycles will be excellent for you if you would like to take a tour in the rural or off-road routes. 
The country style bikes are designed with wider tires, sturdy frames and front suspension systems.  The country roads have uneven terrain and the rider will experience bumpy rides. So with these features the bike will able to handle the uneven surfaces. And the rider will have an enjoyable ride.
European
Europe has long tradition of using outdoor bicycles.
You will find European style of outdoor bicycles has minimalist design. The bikes have narrow tires too. With this style of bikes, it is perfect for Europeans to use them so that they can easily navigate in their busy city streets. 
Europeans would like to have bikes that are efficient and practical to use.
Retro
The Retro open air bicycles has a  sense and feeling of yesteryear. They have the look of bikes from 1950 and 1960s. So I called them "antique bikes" too.
It is made with modern technology but with designs in the 50s and 60s incorporated to them.
Retro bicycles have vintage-style frames, chrome accents which are common in those past years.
Urban
If you are living in the city these urban style bikes are perfect for you. These urban  bicycles are designed for the challenging situations in the city.
Urban bikes have durable frames, puncture-resistant tires and reliable gearing systems so that these bikes can withstand the challenges in daily commuting. Having these features will ensure the riders to have a smooth, and efficient ride The riders will find ease to navigate on the busy city streets.
Are you looking for a bike? Start your search online: "bike shop near me"
Have a Thrilling Experience With Outdoor Bikes.