Schwinn Tandem Bike Review
Yes, it's fun to ride a Schwinn tandem bike, and I did ride several times with my friend. I was the stoker – the person who rides behind. The captain is my friend who rides in front of me. A tandem bike is a type of road bikes.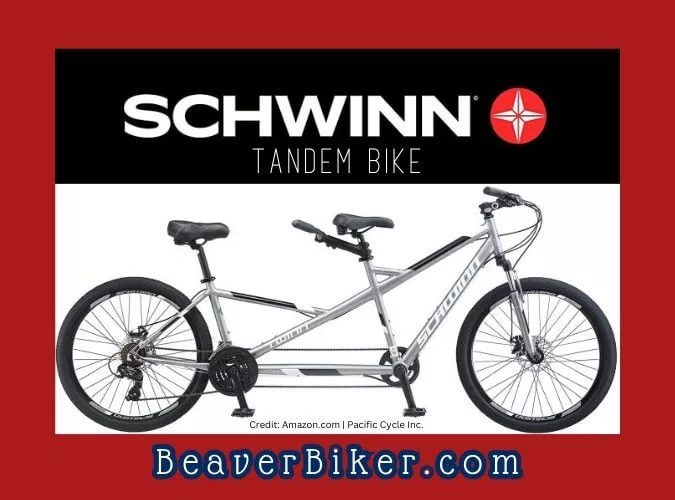 Another friend of mine had assured me that I have nothing to worry when riding a tandem. He said that I can do painting or polishing my nails while riding on it. I never believed that.
It's true that I don't have to hold the handle bars all the time. I could drink my water from the water bottle  as long as I want without holding the handle bars and worrying getting unbalanced.
Finding a sturdy and comfortable twin bike is a heavy task, as the market offers only a few options. You need to be extremely careful while investing your money in a tandem bike because it requires a lot of money.
Today, we will review one Schwinn tandem bike that may be worth your investment. Keep reading to know our final verdict before making any decisions.
Video Review
Watch the Schwinn Tandem Bike Review video. . .
Brief Overview: "Twinn" Schwinn Tandem Bike
Schwinn is a famous American bicycle company founded in 1985. It is known for its quality and dedication to providing comfort and ease to riders. Customers blindly trust Schwinn bikes for their durability and longevity.
The Schwinn tandem bike is also known as the Schwinn Twinn, and it is made for two people to ride together. Since it is a unique design, it increases the excitement and fun for the riders.
It has a strong and sturdy frame made with the highest-quality steel, ensuring strength and ease for the rider. The ride at Schwinn Twinn is smooth and balanced, providing a comfortable cycling experience.
The saddles on the bike are soft with ample padding to ensure an enjoyable ride for the captain and stoker. It is an excellent purchase for two friends, partners, or family to enjoy quality time together with this activity.
Schwinn has built a positive image in the market and continues to improve with its consistent quality. So, it might be a great experience for you if you buy the Schwinn tandem bike.
Special Features
There are several exceptional features of the Schwinn tandem bike. Let's go through some of them in detail:
Sturdy Frame
One of the most incredible features of the Schwinn Twinn bike is that it is manufactured with a sturdy frame. The company uses high-quality steel for the construction of the bike. It can endure a lot of weight and manage its balance. It is a smooth and comfortable ride for two people.
The steel is highly durable and does not wear with time. You will not have to change the bike after a few years due to its frame, which is super long-lasting.
Adjustable Saddle and Handlebars
The Schwinn tandem bike offers adjustable saddles and a handlebar stem so that people of all weights and heights can fit comfortably. You can customize it according to your preferred comfort position. Since everyone has different levels of comfort, Schwinn provides this adjustable feature to enhance your comfort.
Multi-Gear Bike
Schwinn Twinn has a multi-gear system that contains a combination of gears to provide a range of gear ratios according to different riding situations.
The gears are located on the rear wheel and crankset. They directly impact the pedals in terms of how hard or easy they will be.
Through gear shifting, the riders can control the efficiency of the pedals. The gear shifting of the Schwinn tandem bike is extremely smooth and swift with the rear derailleur. It does not lag or slow down the performance of the bike.
For a tandem bike, this gear system is even more crucial because it caters to the needs of two riders. Each rider can have different pedaling efficiency and strength; hence, a multi-gear system can be very helpful.
Efficient Braking System
The Schwinn Twinn has an incredible braking system with abundant power to stop the bike immediately. The strong caliper brakes provide complete control and safety for the riders.
These brakes are very reliable and serve their purpose exceptionally well. However, you should regularly test the brakes and keep up with their maintenance.
Rear Rack and Fenders
There is a rear rack on the Schwinn Tandem bicycle that allows you to store your backpack, small luggage, or other necessary gear.
Moreover, the front and rear fenders protect against water splashes or debris. They will help you stay neat and clean while riding the bike.
Timeless Design
Schwinn Twinn features a classic design that will remain ideal for a long time. It is a timeless design that requires minimal change or upgrade after a few months.
Reflectors and Lights
To enhance visibility during low-light conditions, Schwinn tandem bikeprovides reflectors and extra lights. It increases the comfort level and confidence of the driver.
You should ensure that you maintain these lights, and you must get them repaired immediately if they stop working, as these lights are important for your safety.
Specifically, they help you get spotted by other drivers or riders on the road when you go on a night drive or in low-lit areas.
Pros and Cons
Pros
🚴🏿 Two riders can comfortably ride on the Schwinn Tandem Bike
🚴🏿 Tea aches teamwork skills to the captain and stoker
🚴🏿 Sturdy frame and longer wheelbase to enhance stability
🚴🏿 It can drive at a high speed because two riders pedal it together
🚴🏿 Suitable for long drives too
🚴🏿 It comes with adjustable saddles and handlebars
🚴🏿 High-quality and durable bike
Cons
🚳 Heavier and bulkier structure than regular single bikes
🚳 It can be challenging to synchronize with your stoker as a captain or vice versa
🚳 Expensive than a single bike
🚳 Limited availability
Customers' Experience, Reviews & Bike Rating
User's Experience
As far as the user experience of the Schwinn Twinn bike is concerned, it is comfortable and easy to operate. It is an overall fun and exciting experience to ride the bike because you get to enjoy it with a partner.
Users adore the bike's stability and smoothness, as well as its sturdy rear frame.
Another excellent feature that Schwinn has added to enhance the user experience is that it is adjustable to fit and cater to different heights and weights of people.
Moreover, the bike is easy to assemble, as it comes with clear instructions and a manual. You can get it assembled quickly without much hassle.
It is hard to spot a negative point in terms of the user experience. So, the Schwinn Twinn bike is a safe option to consider.
Customer Reviews
The customers have been pleasantly surprised by the Schwinn bicycle built for two. They love the opportunity to share their riding experience with a partner and connect with them since it is excellent exercise and makes them feel refreshed and healthy.
Many customers rave about the Schwinn tandem bike sturdiness and strength of the frame, which provides undeniable smoothness with its rigid fork.
It becomes easy for the riders to ride the bike with minimum effort and control.
Various online reviews show that the Schwinn Twinn can be used for several purposes, including long leisure drives or going to work.
Because it offers good value for your money, it is a favorite among all users and is very well-liked by customers.
Some reviews discuss that it is heavier, which is justifiable because it is a bicycle built for two.
Product Rating
At the time of this writing, the Amazon overall rating of the Schwinn Tandem bicycle is 4.3, which is considered excellent.
It shows that the product is promising and that people enjoyed riding on it.
However, everyone can have a different experience depending on individual preferences.
You can never have an end-to-end image of a bicycle until you try it and see its control and stability.
Since a higher rating shows that the maximum number of customers are satisfied with the bicycle, you can rely on the reviews too.
My Unbiased Review: Reasons for the Rating Score
According to our research, experiences, and reviews, the Schwinn tandem bicycle is an excellent investment for you and your partner. It will cost you more than a single bike but provides opportunities for bonding with your partner, so it is worth it.
The bike has a high rating on Amazon.US, mainly because of its quality and durability. Usually, it is challenging to find a good-quality twin bike that is truly worth your investment. In that regard, the Schwinn tandem bicycle is a great option to consider.
The classic design of the bike looks decent and impressive. You will feel and look good while riding it with your partner.
However, if you ever want to ride it alone, it will require much more effort and strength than a single bike.
It is a timeless bike that will last very long and does not require a lot of maintenance. You should invest in it because it is good value for money and a reliable option.
Things to Consider While Buying a Tandem Bicycle
The things to consider when buying a tandem bike depend on your personal preferences and needs. However, the following are some of the general guidelines that you have to keep in mind while buying an expensive tandem bike:
Brand Reputation: Since twin bikes require a lot of investment, you should do thorough research about the brand.
Analytically assess the brand and decide whether or not it is worth the price. If the brand has a negative image in the market, do not spend your money on it. Be sensible and only buy reliable brands.
Durability: Before spending money, ensure that the bike is durable and made of high-quality steel. If you get a low-quality product, its steel will get spoiled in no time and you will regret your decision.
Hence, try to buy the most durable and long-lasting bicycle.
Affordability: When you start exploring the market, you will come across several options with hefty price tags. You must aim to get a great quality bike on your desired budget.
Even if you are buying an expensive bike, you must ensure that it is worth the price and not a waste of money.
Customer Reviews: Always ensure that you go through the customer reviews in detail. You will find minute details about the product, which will help you decide whether to buy it.
Do not go and purchase anything that you like; mainly rely on customer reviews to make an informed decision.
Frequently Asked Questions
Are Schwinn Tandem bicycles suitable for people of different heights and sizes?
Yes, Schwinn tandem bikes come with adjustable saddles and handlebars that can fit everyone on the bike. The riders can customize the bike according to their height and size to have a comfortable ride. Both the captain and stoker can customize the settings as per their comfort.
Can I ride a Schwinn Tandem bicycle alone?
Yes, it is certainly possible to ride the Schwinn Twinn alone. However, it requires a lot of extra effort and strength to ride it alone, as it is primarily designed for two riders. It can be very challenging to control and balance the bike alone. Hence, it is better to always have a partner with you.
Is it different to ride a tandem bike than a single bike?
Yes, it is quite different to ride a tandem bike. The ride of a tandem bike mainly depends on the coordination between the captain and the stoker. While a single bike can be controlled by a single person, you might need a few days to practice with your partner to excel at riding a tandem bike.
Is it safe to use a tandem bike for long-distance commutes daily?
A tandem bike is perfectly safe for daily long-distance travel. But it is up to you whether you are ready to spend your energy on it or not. Moreover, you will also have to face issues like storage.
Have a Fun Ride with Schwinn Tandem Bike
Tandem bikes provide a fun experience for both the captain and the stoker, which is why so many people invest in them. Today we reviewed the Schwinn tandem bike for you so that if you are planning to get one, you can make an informed decision.
Since it has a reliable and sturdy construction with adjustable features, it can be a great option to consider. However, there are challenges related to learning to ride a bike.
After going through our review, we hope you make the right decision for yourself while keeping your requirements in mind. So, what are you waiting for? Go ahead and make your decision confidently. Happy riding!